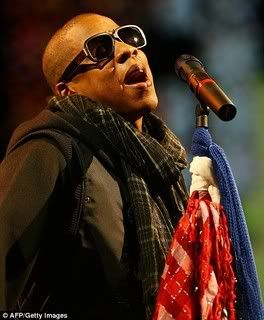 I'm pretty bored with the whole Glastonbury thing even though I didn't go and haven't watched a single clip on TV or Youtube. I reckon to make things a little more interesting people should try festival & gig swapping a little more often. Perhaps Jay Z & Mary J Blige could swap Jigga one night on their 'Heart of the City' tour with Noel Gallagher and they can do an acoustic version of Can't Knock the Hustle. I've met Noel many a time (ardent trainer shopper) and he's always been lovely to me so I was surprised he allegedly said this:
"If it ain't broke don't fix it," he said. "If you start to break it then people aren't going to go. I'm sorry, but Jay-Z? No chance...Glastonbury has a tradition of guitar music and even when they throw the odd curve ball in on a Sunday night you go 'Kylie Minogue?' I don't know about it. But I'm not having hip-hop at Glastonbury. It's wrong."
Considering the Beastie Boys played Glasto two years before Oasis he's got quite a cheek - "I'm not having it, it's wrong" indeed. Thing is, most festivals have become pretty homogenized - they all have a different 'vibe' but line ups do seem to be getting more similar. If you download the full Glastonbury line up and put your hand over to cover the headliners it's actually really diverse and always has been. This year included; Ethiopiques, Solomon Burke, Estelle, Lupe Fiasco, Massive Attack, Tawiah, Portico Quartet, Roisin Murphy, Ozomatli, Natty, N Dubz, Dizzee Rascal, and Santogold to name but a few. If you wanted to you could pretty much avoid guitars the whole weekend. Jay Z really copped the flack - had there been a bit more diversity amongst the 'headliners' would anyone have been able to say anything?
As a little experiment let's re-imagine the headliners. Just for a second let's add a couple more names to the tops spots such as Kanye West, maybe even Stevie Wonder, and Shirley Bassey (a Glastonbury favourite). Would there have been such a huge focus on Jigga or hip hop? Would people have said Glastonbury is changing too much? Would Stevie have failed to attract a crowd? Would people say that it's being "taken over", and by whom? Jay Z was just a lone and easy target. Every industry or business has to evolve to reflect the diversity of the population and if you have 100,000 tickets to sell it's a smart move to cater to as wide a range of people as possible. I can't help but feel really uncomfortable when hearing such resistance to change - and I'm so glad in this case progress won.