I've been a little underground the last couple of days (who knew you can't learn Photoshop and Dreamweaver in 10 minutes?!)...I've got an event coming up. No, it's not a club night so you can all carry on pestering me daily about that (soon come but when I'm ready).
For some reason I get a lot of requests from emerging artists to manage them...I always think it's a bit odd if you don't have a deal yet, surely what you want is a publicist? Anyway, I think it's a product of the fact there are loads of really talented people at the mercy of an industry that - to put it bluntly - is pretty monotone. For some reason people want Amy Winehouse, Adele and Duffy singing soul and blues - personally I don't think even if you add them up & multiply them exponentially you'd get even half an Eska. Oh, and if you're a bloke you'd best do indy unless you like poverty. This is not news - we've all been grumbling about it for ages.
A couple of years back I had a massive argument on the train with my partner at the time about an article Hannah Pool wrote in the Guardian called
Whiteout
. I wouldn't say it was particularly well written but my other half took umbrage to it because he felt the argument that British pop wasn't multicultural enough was invalid because who gives a toss, why would anyone want to make mainstream music? I was enraged on behalf of my future children - I felt (and still do) they should grow up feeling confident they can do anything they want, regardless of their background. The UK music industry is one of the most visible, and it has a very low glass ceiling at the moment...I'm mainly talking about black people here because we're so rubbish on music of other origins it doesn't even get a look in.
Thing is Hannah wrote the article 2.5 years ago and the argument was old then. It's not even the case that we haven't had successful AND credible artists. What concerns me is the current UK chart...here's the top 10:
1. Dizzee Rascal and Calvin Harris - Dance Wiv Me
2. Ne-Yo - Closer
3. Basshunter - All I Ever Wanted
4. Jordin Sparks Ft Chris Brown- No Air
5. Chris Brown - Forever
6. Ironik - Stay With Me
7. Coldplay - Viva La Vida
8. Rihanna - Take A Bow
9. Gabriella Cilmi - Sweet About Me
10. Busta Rhymes Ft Linkin Park - We Made It
We have the answer! All you have to do is go to America. The closest Dizzee got to the top 10 was number 10 with Stand Up Tall 4 years ago - despite a Mercury Music Prize under his belt for his debut album. Same thing with Estelle...to be honest I don't think she's a great example of the most talented artists we have but at least she said what everyone else was thinking and did something about it for herself. 1980 got to number 40. Leona had the right idea and bounced, and Omar is HUGE over there...most people here can just about hum T
here' Nothing Like This
.
What I don't understand is this. That chart is pretty black. At number one is a black UK artist. Obviously people want to buy black music. But apparently the UK industry would rather US companies take the little remaining money that is left from whoever it is that's buying music. That seems completely insane to me. Glastonbury is a prime example. As I've mentioned before - The Beastie Boys played there years ago and it has always been pretty diverse, but you put Jay Z up as the headliner and it's a problem. No matter that all the other really big acts are pretty homogeneous indy acts. It still sold out, most people love Jay Z now and quite frankly it was all a bit of a farcical storm in a teacup. From what I can see it just looks like any other industry that hasn't yet grasped the business case for cultural diversity. Put simply - reflect the cultural background of your customers, it makes sense.
I don't like to chat about an issue and then sit there doing nothing so...myself and a few others (who shall remain nameless for now) have started
Transatlantic Sound
. It's an artist development agency and we're hoping to provide artists with the support that the industry isn't, whilst bashing the industry over the head with the fact that black and culturally diverse music is actually a good investment (personally I'm really not about supporting just black people, but all talented culturally diverse artists otherwise you're just swapping one thing for the other). Why are we doing it? Well, the other day I was talking to an incredibly talented producer who told me he was thinking of giving up because he can't afford to do music for a living. I don't want to hear that from him or any of the other incredibly talented artists I know - what will I listen to?!
If you're a talented singer, MC, songwriter, musician, DJ or producer really committed to your art you are invited to this event: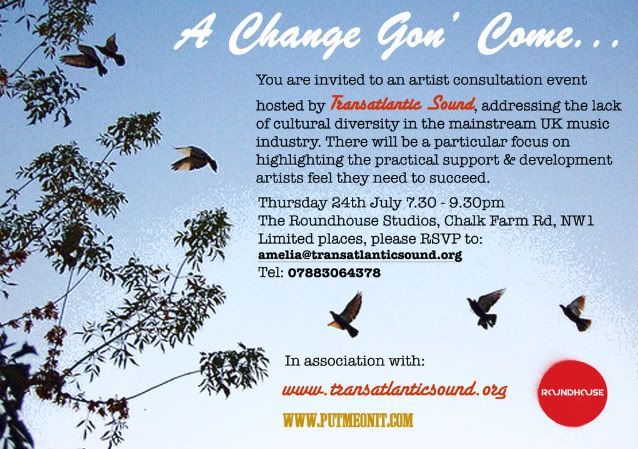 I don't want my kids growing up looking at a low glass ceiling, so I'm going to smash it up before they get here. Email me your RSVP
amelia@transatlanticsound.org