*Mychoons Artwork by the super talented Ali Augur
I'm always worried about reviewing events run by people I know but I had a feeling
Charlie Dark
&
Andrew Missingham
's new
Desert Island Disks
style music talk show
Mychoons
was a pretty safe bet. Their guest this week was comedian
Eddie Kadi
, who I didn't know much about, but everyone I spoke to in the foyer said "my Mum loves him" so I wasn't sure what to expect.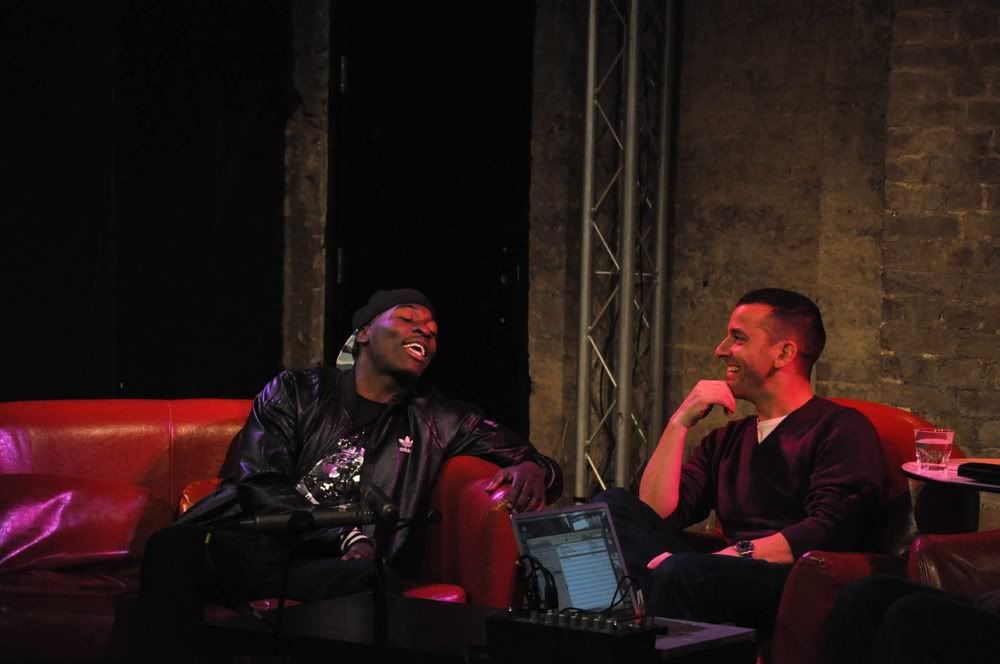 It turns out Eddie is a brilliant Congolese comedian who moved to London at the age of 8 with his family in 1992, and the first song he can remember blowing him away was
Michael Jacksons' "Beat It"
, which he couldn't understand the words to at the time and was convinced MJ had to be from the Congo.
(Full review>>)
Eddie is a wonderful story teller, and it was fascinating how through the music he chose you got a colourful sense of exactly what he and his family were like as he grew up. We met his Mum through
Matou Samuel
, a Congolese gospel artist who sings in Lingala, in a key which Eddie described as "Z-". His Mum would play Matou whilst she went about her work - cooking, cleaning, beating Eddie - the usual. It sounded like his family were pretty strict because Eddie outed himself by admitting he had to sneak out to his first rave at the Colisseum in Vauxhall, for his first kiss - to
The Artful Dodger ft Craig David "Re-rewind"
. Apparently it came as a slightly unexpected shock with a girl he'd been dreaming of sharing his Playstation and bus pass with. The audience were split over Eddie's next choice,
"Here I Stand" by Usher
, which was his break up song, and a vote was called to see who liked Usher and who didn't get it. *Personally, I know he's talented and I quite liked his early stuff, but I don't really get it.
Magic Systems' "Premier Gaou" defined for Eddie what it is being an African British man, in particular the message behind the song (never judge a book by it's cover). Eddie immediately leapt out of his seat and grabbed his unsuspecting hosts to show them how to move their hips to it, which they both tried valiantly...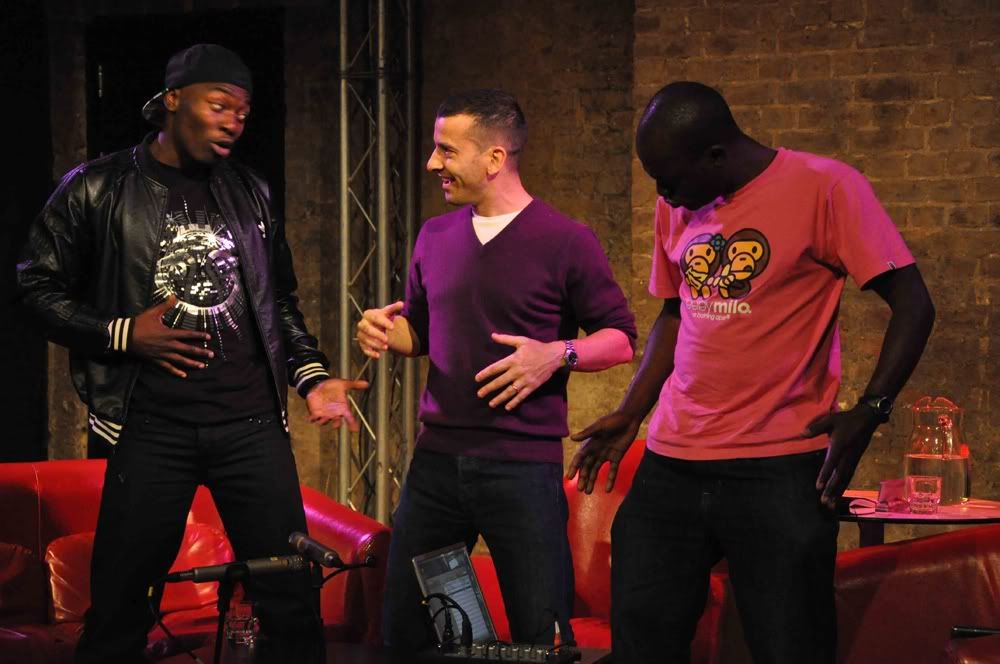 The final pick from Eddie was his guilty pleasure. I don't think anyone expected to hear
Bon Jovi "Living on a Prayer"
but I for one have no problem admitting - that's a serious choon. A nearby friend informed me he got beaten for listening to that song as a kid when he was supposed to be hurrying up to have a shower, and when asked at least half the audience admitted to liking it. *
Go on, admit it.
This is Eddie's famous Parking Attendant song.
*FYI if you're not from London, pretty much every parking attendant and traffic warden here is African...
The second half was about the audiences "Choons". Charlie picked out a young
MC called Jammz
to tell us about his song, which was UK garage classic
"R U Sleeping" by Indo
- apparently his Mum is a big garage raver and he'd come home from school to this song all the time. Charlie asked him to spit 16 bars because he's off to Uni, and Jammz came back with a serious freestyle he titled "96 Bars of Reality". The next pic from the audience was Alpheus Little - Jammz's Dad. His choice was the incredible
MFSB "Mysteries of the World"
. Andrew gave them a wonderful surprise by staying up all night creating a mash up of father & sons songs - which actually worked suprisingly well and was a beautiful and memorable moment.
We ended on "Zoom" by the Commodores, another gorgeous song I'd forgotten all about, which the guy who picked it, Marco, would like to have played at his funeral. Better than my sister's choice for that event which she claims is the opening of
Pharoahe Monch "Simon Says"
.
I would seriously recommend Mychoons, it is easily one of the best music events I've been to this year - fascinating, hilarious, informative and heartwarming and it really makes you think about the soundtrack to your own life. Join the group on Facebook:
http://www.facebook.com/pages/My-Choons/110750049299