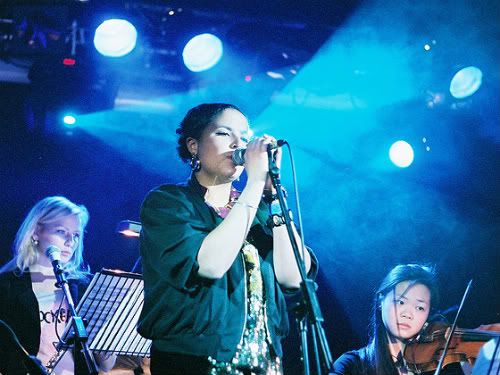 On Saturday I went to
Gilles Peterson's World Wide Awards
(not the World Wildlife Awards as my sister put it) at the Garage, arriving just in time to catch the first act of the night, the
Floating Points
Ensemble, who absolutely blew me away. A 16 piece mini-orchestra (the full band will be 19 I'm told), fronted by
Fatima
which was so incredible I was ready to kill the persistently noisy audience. They were followed by the ever lovely
Andreya Triana
(who brought Fink and Bonobo on as her backing band!), I promptly had a nerd out moment as I was the only person who whooped when she decided to sing Tea Leaf Dancers. Pure gorgeousness. I couldn't get in upstairs to see
Elan Tamara
and the other acts unfortunately.
It was the first time I'd ever seen an award ceremony where the winners were artists I appreciate in my day to day life and it was a wonderful feeling to see them recognised. It really put in to perspective the rather meaningless end of year blog list madness I'm not too keen on; Gilles puts on events, a festival, runs a radio show, a record label, creates projects and hosts an award ceremony to showcase the music he believes in [which I feel is infinitely worthier than just mouthing off about your opinion]. Mulatu Astatke was there in person to pick up the Album of the Year Award and he [rightly] received one of the biggest cheers of the night - there was a tangible outpouring of love towards the stage which I hope made up for Gil Scott Heron not being very interested in the Lifetime Achievement Award. I felt very grown up for owning 3 out of 5 of the jazz albums of the year, I thought I wasn't very in to jazz.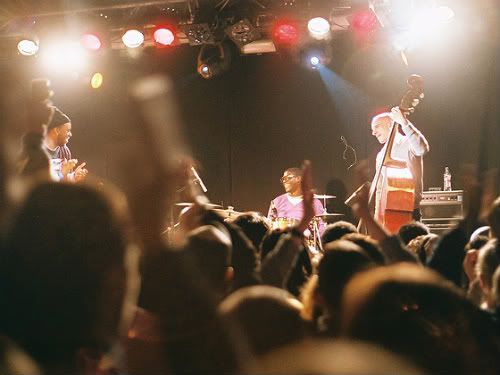 Robert Glasper
, who made a hilarious acceptance speech, played a fantastic set and drummer Chris Dave who missed his flight had his very large boots filled heroically (and thoroughly) at the last minute by an extremely talented young guy named
Josh McKenzie
. I got really excited when Theophilus London came out on stage to the sounds of "I Want You", and gave a rendition of "Calypso Blues" both by Marvin Gaye - which is a very brave move. I'll probably get beats for this but I wasn't feeling anything he did after that; too much hype, not enough substance, and he mutilated "I Will Always Love You" by Whitney Houston in what I can only describe as Bruno's Eurotrash-Remix which the (beyond messy by this point) crowd seemed to love. I'd been there since 8 o'clock and had to bounce before seeing Lee Fields & El-Michels Affair (the main reason I bought a ticket, along with Jose James with band which just wasn't mentioned?!), but all in all it was a brilliant night.
Peggy
who put it together deserves a knighthood, the DJs were seriously on point, and the sound was fantastic everywhere I stood. Sterling. Check out the video by
LeFtOoO
.
Full list of winners HERE
Top two photos c/o Spine Magazine, third photo c/o GPWW