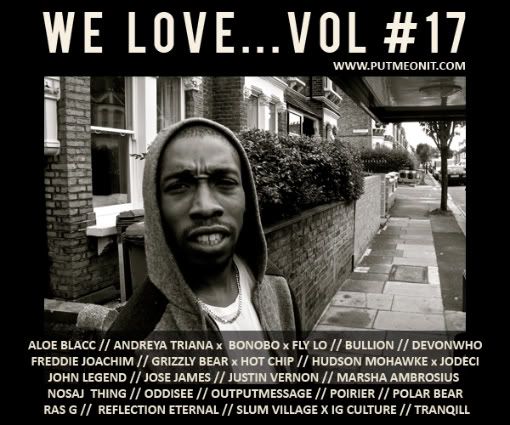 Download (Mediafire)
This weeks "cover" is Tranqill, I have so much love for that guy and his talent, it had to be done. The rest is the usual random mixture of songs I love, for you to dance to, cry to, do the nasty and the washing up to... hope you enjoy!
Tracklisting
Aloe Blacc - I Need A Dollar
Andreya Triana - Lost Where I Belong - Flying Lotus Remix (Preview Edit)
Bullion - God Only Knows
devonwho - fourthrees (P.U.D.G.E.'s recreation)
(Freddie Joachim rmx) Vikter Duplaix - In The Middle Of You
Grizzly Bear - Boy From School (Hot Chip Cover)
Hudson Mohawke - freek
John Legend - There With You
José James - Code
Justin Vernon - Song For A Lover Of Long Ago
Marsha Ambrosius - Take Care
Nosaj Thing - IOIO
Oddisee - The Supplier Feat. Tranqill
Outputmessage - Mettle
Poirier - Marathon
Polar Bear - Peepers
Ras G & The Afrikan Space Program - End Of Days
Reflection Eternal - In This World
Slum Village - Get Dis Money (IG Culture remix)
Tranqill - Deadly Wintaz
*WE LOVE... is a big one click download of carefully selected individual tracks sourced from reputable blogs & artists we love. Please email us (info@putmeonit.com) if we've uploaded a non-promo track in error or to send us something you love.