Friday 9th of April was
DJ Sarah Love
's
last ever hip hop mix show
on BBC Radio 1Xtra, which is going to impact the hip hop community both in the UK and US in a profound way. That might sound overly dramatic but in all seriousness, 1Xtra has just lost a key hip hop specialist, MOBO nominated international club DJ, overqualified broadcaster, musician, writer, positive role model, and one of the most respected figures in hip hop in this country (not to mention unicorn-rare female who ticks all of those boxes).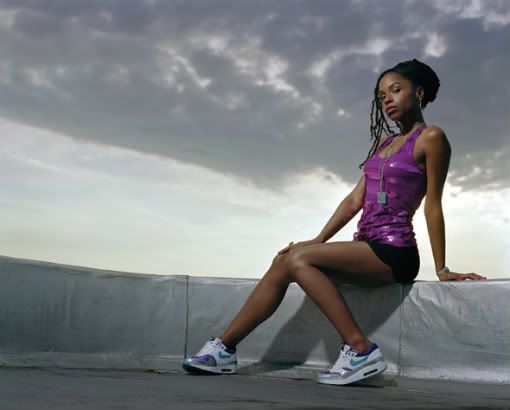 For the unaware, Radio 1Xtra is a digital BBC radio station (and sister station to Radio 1), specializing in "new black music", and for the last three years DJ Sarah Love (you may also know her from
MTV Base
& the legendary
Kung Fu
), has presented a
three hour hip hop mix show
on Friday nights from 1- 4am. Her shows typically include the kind of hip hop a scholar and purist of the genre would play without feeling concerned if told DJ Premier or Chuck D was listening in. That might sound like she lazily plays loads of golden era vintage - however Sarah is one of the only hip hop DJs in this country with as detailed a knowledge of and passion for brand new homegrown and Stateside quality hip hop talent as she has of the old school.
In February 2009,
Ben Cooper
was made Deputy Controller of BBC Radio 1 and BBC 1Xtra to "take the lead role in implementing the strategies for both Radio 1 and 1Xtra, overseeing both networks' mainstream and specialist programmes". He announced in March 2010 that Sarah Love and DJ G Child would be leaving and that
"Radio 1Xtra must continue to evolve in order to offer our young audience the best Hip Hop and R&B music, as well as the freshest DJ talent."
Which would be fair enough, if Sarah Love were indeed being replaced by a talented & respected hip hop DJ and broadcaster. I know of her replacement, rapper Charlie Sloth, for his Youtube videos and music (and he seems like a nice guy), but I've never seen him on a line up as a hip hop DJ, unless I'm much mistaken. So who is the guy making these decisions about a station specializing in "new black music"? A former Executive Producer at Capital Radio, who joined Radio 1 as Head of Mainstream, then Head of Programmes and now Deputy Controller of Radio 1 and 1Xtra. A real "new black music" specialist then.
I recently returned from SXSW in the US, where I found on the whole real, quality hip hop seems to be making a resurgence but the commercial radio sector is crippled. I came home so thankful for the BBC - where due to the lack of commercial pressures specialist DJs like Sarah Love, Gilles Peterson, Benji B, Mary Anne Hobbs, DJ Edu, Robbo Ranx, Ras Kwame and the rest can remain true to playing diverse, brand new, original, groundbreaking, quality, exciting music - they're expert tastemakers with a true connection to their cultures and they are relied upon to represent and inspire thousands of music fans around the world every week. They are the respected linchpins who maintain the authenticity of 1Xtra, they break new artists who make it from their shows to playlists to new audiences and live show bookings, and they are what make 1Xtra unique and different to their competition. It seems we've lost another soldier in the dumbing down & homogenization of BBC radio, not forgetting the proposed closure of
BBC Asian Network
and
6 Music
.
So what does hip hop at 1Xtra look like without Sarah Love bearing in mind they aim to bring us "the best"? Well, having looked at Tim Westwood & DJ Semtex's recent playlists, it looks a lot like Nicki Minaj, Drake, Tinie Tempah, Ludacris, the occasional Jay Electronica or J. Cole tune, and thanks to Westwood, teeny bopper Justin Bieber?! Does the word "sell out" not mean anything anymore?!
*Don't give me the "he's young" line - you know even Bow Wow would have eaten him alive whilst still in nappies.
So who will be playing the new Pharoahe Monch, Kashmere, Elzhi, Homeboy Sandman, Skandal, Diamond District, Jehst, Invincible, Ramson Badbones, Blu & Exile, the next Jay Electronica (before everyone's on his nuts) etc etc on UK radio on a consistent basis? Who will be representing and breaking the kind of hip hop that's not made for the top of the charts but for the multitude of fans who know what real, quality hip hop sounds like (and trust me we're out there)? The kind of hip hop that doesn't mercilessly imply without balance that it's ok to model your image on a Barbie doll, steal other rappers flows, rap on beats best suited to a ring tone, talk constantly about clubbing, f*cking, money, violence, the inane and the meaningless, rappers who pride themselves on "not having lyrics", crap all over the legacy of hip hop and generally perpetuate images of black people as superficial over-sexed violent stereotypes with nothing of worth to say?
I have no idea.
You have one day left to check out Sarah Love's last show -
www.bbc.co.uk/1xtra/sarahlove
, but you can download and keep her dope recent interview with
Phife Dog
(who left very little out!).
In future you can check for her at www.djsarahlove.com