This has to be the most belated review ever written and for that I apologise, but this was a great gig and so very much still worth telling you about.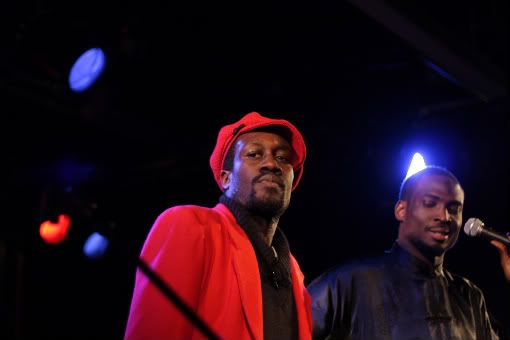 Normally I would go in to detail about the whole show, especially when the event was hosted by the legendary David J, and I caught great performances from singer/ songwriter Jem Cooke and poetry from Inua Ellams - but this was
Benin City
's night, and so this is their review.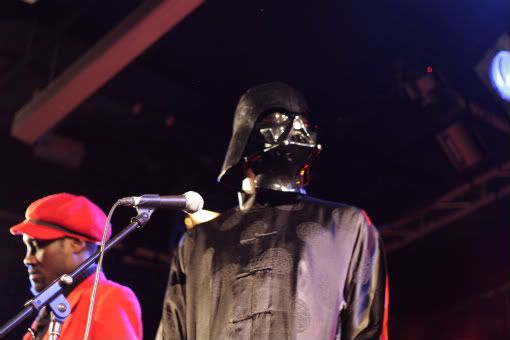 A little background on the band - Musa Okwonga and Joshua Idehen. Both have been (and still are) well known poets on the London circuit (they run
Poejazzi
!), they are extreme music nerds with an astounding diversity of taste, and their personalities are chalk and cheese. Ugandan gentleman Musa, wearing the bright red blaxploitation-fresh suit, sent himself to Eton at an early age as you do, and is officially the only person on the planet who can get away with sounding posh and rapping. Joshua is the boisterous Naija boy in black oriental silk pyjamas and Darth Vader helmet, whose hometown the band is named after. For all of their differences they match each other in intensity, with a brotherly camaraderie that makes you wonder if they had pushy mothers who made them form the band aged 5... (except for the fact they're African and were probably being encouraged to study law aged 5).
On to the music. I don't know if afro-pop-funk is quite right but that's what it's labeled in my head. With a great live band (including a brass section) in a packed auditorium I was expecting it go get very hot and sweaty but I have to say the crowd were a bit boring. They did pick up for the refrain from my personal favourite "Work", screaming "all work and no play makes Jack a dull boy!" with mid-week after work angst, but couldn't match the bands' energy for "Snakepit" and "Boogieman" - perhaps a tall order - I thought they might explode at one point.
I have to say two of the highlights for me were poems. Musa moved me to tears with an incredible story about himself and his late father called "Passport", and in "My Love" Joshua cleverly and provocatively described his love in the third person. The honesty behind both pieces made me both slightly uncomfortable and thoughtful. The night ended with a hilarious remix of "Here Come the Girls" by the Sugababes, and a freestyle about the Northern Line set to "No Limit" by 2Unlimited - don't ask me how but it worked.
Benin City
are a live act not to be missed, unless you're feeling a bit tired and rubbish, in which case wait until you've had a lot of sleep and Red Bull - then you might just be able to keep up. You can buy their EP "The Invisible Cake"
HERE
.
A huge thank you to Rajesh Taylor for the photos.