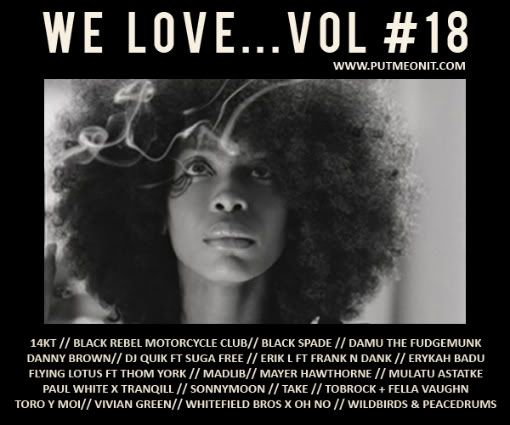 DOWNLOAD
HERE
It's been a while since I put one of these up and so much stuff has accumulated I had to make two "We Love"s at the same time. A few things to mention; Danny Brown is musical marmite but I loved the sample flip, yes that DJ Quik & Suga Free track is brand new, I've been revisiting 14KT and Sonnymoon this week nonstop (two of my favourite releases of the last year so had to put them on here), you won't enjoy the Damu The Fudgemunk track without headphones or speakers, and I recommend leaving a gap between doing anything else and listening to Wildbirds & Peacedrums. This was Erykah Badu's week, and although we haven't posted video of her every waking moment we definitely love her...
Tracklist
14KT - The Meaning
Black Rebel Motorcycle Club - Beat The Devil's Tattoo
Black Spade - Planet Rock (Main Mix)
Damu The Fudgemunk - Judgement Day
Danny Brown - The Wizard
DJ Quik (Feat. Suga Free) - Nobody
Erik L (Feat. Frank n Dank) - Push It Up
Erykah Badu - Gone Baby, Don't Be Long
Flying Lotus f. Thom Yorke - ...And the World Laughs With You
Madlib - The Frontline (Liberation)
Mayer Hawthorne - Thin Moon
Mulatu Astatke - Yekermo Sew_remix Te'Amir
Paul White (Tranqill's Version) - So Far Away
Sonnymoon - Gills or Wings
Take - Neon Beams
TOBROCK & FELLA VAUGHN - Two Man Sound
Toro Y Moi - Talamak (Live)
Vivian Green prod. by James Poyser - All Lost
Whitefield Brothers (Oh No Ethio Remix) - The Gift
Wildbirds & Peacedrums - Fight For Me
*WE LOVE... is a big one click download of carefully selected individual tracks sourced from reputable blogs & artists we love. Please email us (info@putmeonit.com) if we've uploaded a non-promo track in error or to send us something you love.