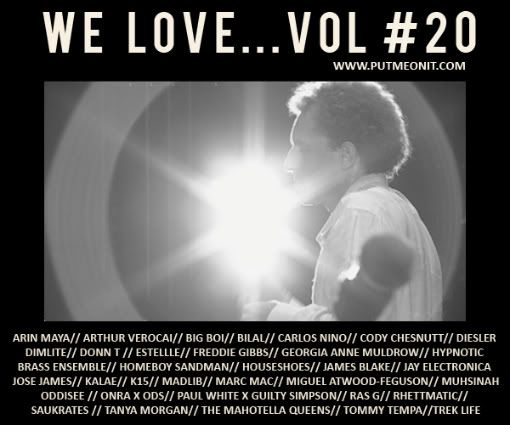 PART 1 [Click to Download]
PART 2 [Click to Download]
People were starting to get annoyed with me so here's the new
We Love
- sorry for the delay! Sometimes it's a real trial to make these but to be honest there was so much great music floating around this time it was a joy, in fact there was so much (40 tracks!) I had to split it in to two parts. Some of the music is inspired by recent events I've been involved in - the
MF Social Club
Screening of
Secondhand Sureshots
&
Suite for Ma Dukes
and Tanya Morgan's live show. Hand on heart there isn't a single song on here I'm not loving right now, and it's the usual fairly diverse mixture so I really hope you find something on here you like and share it with someone else...
PART 1 [Click to Download)
Find In Me - ArinMaya
Flying To LA - Arthur Verocai
Shutterbug - Big Boi
Levels (live at CMJ 2010) - Bilal
Cant Get Used To Those - Dimlite
Beat #1 - Rhettmatic
Look At (original mix) - Donn T
Want You To Want Me Reprise - Donwill ft Tanya Morgan
Dear London - Estelle
The Ghetto (Radio) - Freddie Gibbs
FANTASTIC/UNTITLED - Georgia Anne Muldrow Remix
Bonkers - Homeboy Sandman ft PackFM
Newports - Houseshoes
Zhane - Crush (K15 ReMix)
O.G.LYRIKALBOOKBAGGER - Kalae All Day
Wozani Mahipi - The Mahotella Queens
Lose My Fuse - Muhsinah
Juba May - Oddisee
A1. Ancient Treasure - Paul White ft Guilty Simpson
Full Circle - Dangerous Heresy (Tommy Tempa Remix)
PART 2 [Click to Download]
Like A Brazilian Girl - Arthur Verocai (Jneiro Jarel remix)
Lonely Joined By Happy - Carlos Nino
Come Back Like Spring - cody chesnuTT
Left & Right (Live) - D'Angelo
Deepest Cuba - Diesler
Love Junkie (Wallpaper Remix) - Donwill f. The Park & Ca$he
Think Twice (Marc Mac Remix feat. Danay & Carina) - Gilles Peterson's Havana Cultura Band
Spottie - Hypnotic Brass Ensemble
Get right!! Or get left!! - ISHE prod. by Hezekiah
The Ghost of Christopher Wallace - Jay Electronica feat. Diddy
Blackmagic - José James
Episode XVI - Madlib
All I Want Is You - Miguel (feat. J. Cole)
UNTITLED/ FANTASTIC - Miguel Atwood-Ferguson
Long Distance - Onra ft Olivier DaySoul
Breakfast Blunts - Ras G
Wednesday (UK Remix) - Saukrates ft Mystro & Loudmouth Melvin
Comes To Mind (Josip Klobučar Remix) - Teebs & Jackhigh
All Times - Trek Life (prod by Rhettmatic)
Stop What You're Doing - Untold (James Blake Remix)
*WE LOVE... is a big one click download of carefully selected individual tracks sourced from reputable blogs & artists we love. Please email us (info@putmeonit.com) if we've uploaded a non-promo track in error or to send us something you love.