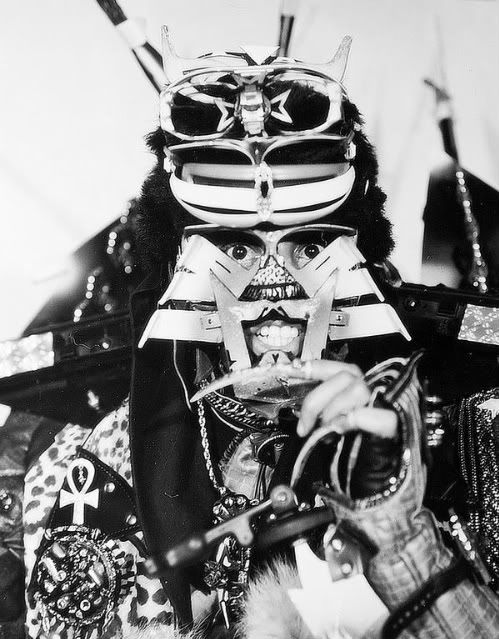 I heard some sad news last night - hip hop legend and pioneer
The Ram: Ell: Zee
has passed away. He was a part of hip hop culture as it was born, rhyming, breakdancing and graff writing with other legends like
Dondi
. (You will have seen Rammellzee in the classic film
Wild Style
if you haven't heard about him until now).
I first heard about Rammellzee through someone I know who has an original vinyl copy of the single "Beat Bop", which is so rare its called the "Holy Grail" of hip hop records (no I won't tell you where he lives). It has the kind of story behind it you couldn't make up. Rammellzee was arguing with Jean-Michelle Basquiat and calling him a fraud, but Basquiat thought he could out-do anyone as a rapper, dancer or painter so they decided to make a battle record to sort it out -
"He wanted [to] say his own verses... me and K-Rob read them and started laughing, and we crushed up his paper with the words he had written down and we threw it back at him face first."
The record ended up being the 10 minute version below with Rammellzee and K-Rob rapping, directed by Fab Five Freddy, and appropriately it became the soundtrack to the cult film
Style Wars
. Rammellzee's is the nasal voice on this track, which he is quick to state he used long before B-Real came along.
"If you've got the guts to challenge your own mind..."
Rammellzee's approach was highly intellectual, revolutionary and avant-garde. He created his own theory called
Gothic Futurism
"which describes the battle between letters and their symbolic warfare against any standardizations enforced by the rules of the alphabet; his treatise, "Iconic Panzerisms", details an anarchic plan by which to revise the role and deployment of language in society." [
Source
]. All of his mathematical theories came from his own head, as he says "anyone can make an equation".
He also started drawing incredibly elaborate masks in 1981 and wearing them in '87. He made more than 20 different masks, one of which cost $80,000, weighed 180 pounds, had an exo-skeleton, a built in soundsystem, missiles, pyrotechnics, and brass knuckles.
I would highly recommend you take a listen to
this fantastic interview
with him by Uncommon Radio from early 2007. You really feel for the interviewer as he struggles to maintain some sort of course through all of the incredible stories and abstract intellectual thought that must have seemed completely mundane to Rammellzee. You can also read about what the day was like for the guy who did the interview
here
(also recommended).
The impact the man has made on hip hop culture is unquantifiable - whether or not he directly inspired the artists who instantly spring to mind (The Beastie Boys, Cypress Hill, MF Doom, Madlib, Teebs) he certainly paved the way for them - few have been as true to their own innovative and obscure artistic paths as The RAMMΣLLZΣΣ. R.I.P.