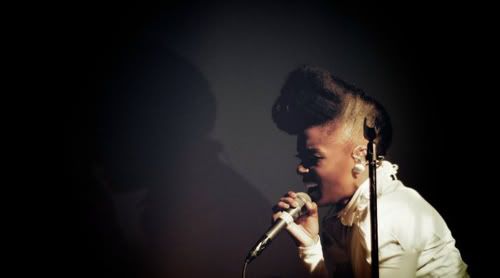 I was lucky enough to get tickets for Janelle Monáe's live show at the Hoxton this Thursday, and four days later I still feel overwhelmed by it. After a slightly strange warm up (Chaka Demus and The Pliers anyone?!), a deep sigh of relief on my part the "special warm up act" wasn't
Diddy Dirty Money
, and a highly theatrical introduction, Miss Monáe's appropriately garbed backing band took to the stage, followed by three shadowy characters in hoods. She turned, we roared, and the most incredible "interactive emotion picture" began.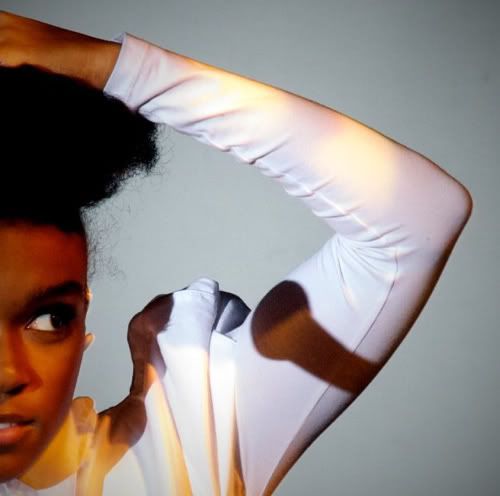 The velocity and energy with which she launched in to the first three songs on the album
Dance or Die
,
Faster
and
Locked Inside
was breathtaking, leading to the only slip up of the night - a hairpin came out of place. After a short break (probably more for the audience's brains to readjust than for Monáes' benefit), she returned to give one of the most impressive vocal performances I have ever seen, a rendition of Charlie Chaplins "Smile". I'm not a huge fan of vocal gymnastics that require the length of a phrase to change just to fit in all of the runs, but in this case that would be like complaining that your team won the World Cup with five goals when they only needed one. I scooped my jaw off the floor just in time to dance to
Cold War
and
Tightrope
, which does not get old no matter how many times I see it.
I was ecstatic that the final part of the show included some material from
Metropolis Suite
, songs like
Violet Stars Happy Hunting!
,
Sincerely, Jane
(which gave me the chills), and
Many Moons
are what made us fall in love with Janelle Monáe but with an album as full as
The ArchAndroid
she could easily have left the older material behind. I also felt that whilst her music sounds great recorded, it gained a fourth dimension live which made me realise just how much
amazing
material she has released in this short space of time. The complete geek in me wished she had performed
Come Alive
but there's always next time.
The thing about Janelle Monáe is that she isn't in a class of her own; she's in a class with the greats. I am not exaggerating when I say she didn't put a single note or foot wrong throughout her performance. That incredibly professional polish made sense of the whole "android, alien, robot" theme to me, she's one of the least human-like humans I've ever encountered, to the point I found myself wondering if she had been genetically modified in a test tube...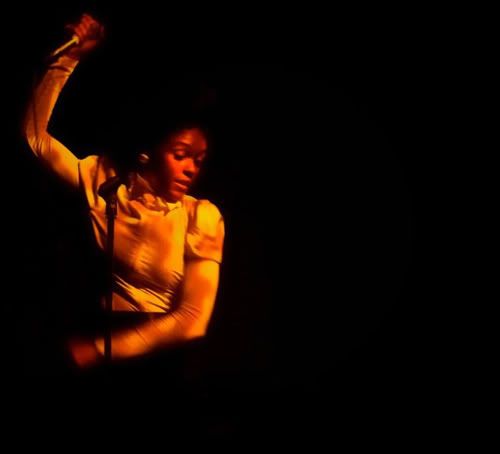 A huge thank you to the wonderful Philip Edwards for the photos.