I had the absolute honour of filming Bilal's soundcheck for a collaboration project I'm working on at the moment, and I was completely floored by the experience, so when I returned a few hours later for the full show and he turned it straight up to 11 it was all I could do to hold it together. There are so few performers in the world like Bilal, every time I see him it reminds me of going to see the greats - always flawless, always extending my ideas on what's "good", always with a hint of the crazy genius about him.
A few people I'd spoken to weren't feeling the new single "Free" which I love - he kicked off with it and it sounds incredible live - partly due to the calibre of artists who make up his live band, partly because it sounds like it was made for it. I hope it converted them. He then launched in to much of the back catalogue and tore a hole in our collective conscious. "Levels" saw the more up to date members of the crowd - excuse the borrowed phrase - spill out all our guts.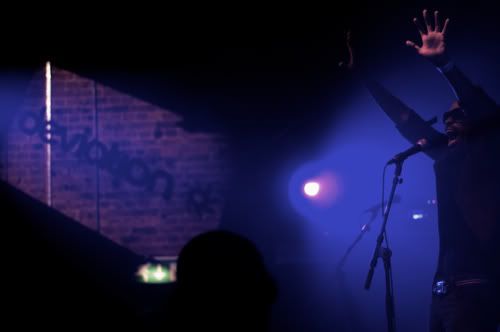 The show ran for two hours, which after starting at midnight was probably more tiring for the audience than Mr Oliver, who always gives the impression he won't go home until you do, and yes he will give another 20 minute rendition of a song. Everyone I've spoken to since is "recovering" from it and trying to work out how parts of it were possible "did you hear him screaming his lungs out then singing like an angel seconds later?!!" That was definitely one to cut out and keep... Huge huge thank you again to Philip Edwards for the gorgeous photography.