The legendary
Charlie Dark
and
Andrew Missingham
's
Accidental Powercut
is easily one of the most interesting and inspiring gigs I've been to this year. The venue is called Quintessentially Soho at The House of St Barnabas - it's an incredibly beautiful chapel with amazing acoustics and the smell of Harvest Sunday Service, set within a slightly maze-like private members club. After making a (not very optional) charity donation at the door you're given a token, the colour of which allows you to see certain parts of the show - I nodded my head feigning comprehension and decided to go with the flow. Luckily I got to see the whole thing.
The whole idea behind the night is that there is no electricity involved other than the lighting, so no microphones, no computers, amps, monitors, nothing. Just instruments and a very quiet audience - it's a true test of skill and er, balls. Kicking off was spoken word artist
Kate Tempest
, a performer with no lack of either of those things. I've seen her live several times before but something about the intimacy of the gig really seemed to soften her around the edges, and I heard a lot more humour in her lyrics than I'd previously noted. No one raps about rapping quite like Kate, "yeah I love your shoes mate, but where's your f*cking skill?".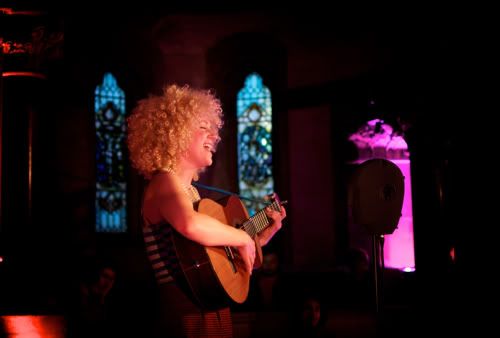 Next up was singer songwriter
Fiona Bevan
who is completely adorable and seems to live in the wrong era, her songwriting evokes an almost fairytale world as she sings about moths and sailors, pirates and diamonds, and the Revel and the Devil "you're the one who puts the fun in to the funeral".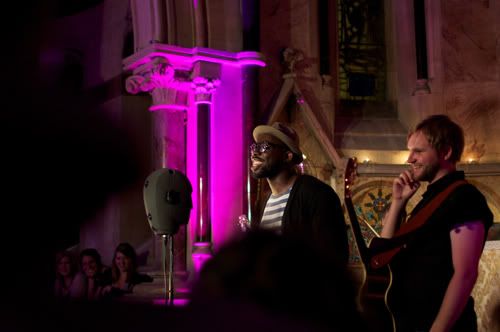 Fiona was followed by Ghostpoet. I have to admit I liked his EP but I really wasn't expecting to be quite so blown away by him live. He may have had the softest voice of the evening but there's some kind of energy coming off the guy that's really exciting, listening to him made me feel the way I did the first time I saw artist like Roots Manuva, Ty and Tawiah live. He doesn't leap around, in a way I think it was the reserved yet intense delivery of his music that made it so engaging, his song "Finished I Ain't" is somewhere between a sinister rallying cry and an impassioned note to self. I'm really interested to see his more electronic show now.
The evening closed with a set from
Sound of Rum
, Kate Tempests' band who delivered more of a funk tinged hip hop take on Kate's sound. Earlier in the night she talked about thinking of herself as a poet after being a rapper for a long time, but the hungry MC never seemed very far below the surface and the band really allows her to fly. For some reason they got carried away and left what they felt was their best material to the end but nevertheless it was a very strong and characteristically passionate set.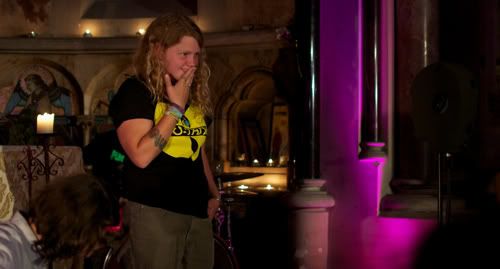 Next month, 2nd September, the line up includes Talvin Singh, Corey Mwamba and Tinashe (and hopefully more magic tricks from Charlie Dark). I recommend you arrive very early.
A huge thank you to Philip Edwards for the beautiful photography
.