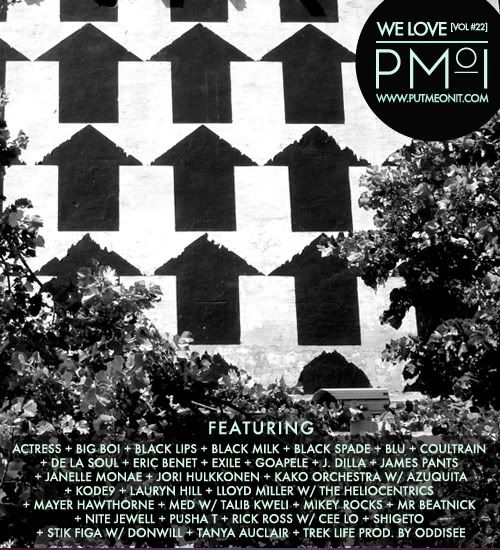 Click HERE to download
30 tracks lovingly chosen from the last month or so in blog land...
Full tracklist
Maze (My Dry Wet Mess Remix) - Actress
Tangerine f. T.I. - Big Boi
Best Napkin I Ever Had - Black Lips
How Dare You - Black Milk
Build and Destroy feat. Coultrain - Black Spade
Da Art of Storytelling Feat. Andre 3000 - Black Spade
The Return Of DST - De La Soul
Sometimes I Cry - Eric Benet
Love Line (feat. Blu) - Exile
Different f. Mos Def - Goapele
Sycamore - J. Dilla
Driftwood - James Pants
Dance Or Die (Nirobi Re Edit) - Janelle Monae
I Am Dead (CFCF Remix) - Jori Hulkkonen
Shingaling Shingaling - Kako & Orchestra, ft Azuquita
You Don't Wash (Actress Remix) - Kode9
Repercussions - Lauryn Hill
Fantasia Pt. 1 - Lloyd Miller and The Heliocentrics
I Need You (produced by Nottz) - Mayer Hawthorne
Classic - Med ft Talib Kweli prod. by Madlib
Bat Phone - Mickey Rocks
Phat Kat - Lovely (Re-Edit) - Mr Beatnick
Am I Real? - Nite Jewel
Bidding War - Pusha T
Tears Of Joy (Feat. Cee-Lo) - Rick Ross
What We Held On To - Shigeto
Well... - Stik Figa & Donwill
Yank My Chain - Tanya Auclair
As The World Turns - Trek Life ft Olivier DaySoul prod. Oddisee
Goin Back ft. Cassidy & Xzibit - 1982 (Statik Selektah & Termanology)
*WE LOVE... is a big one click download of carefully selected individual tracks sourced from reputable blogs & artists we love. Please email us (info@putmeonit.com) if we've uploaded a non-promo track in error or to send us something you love.