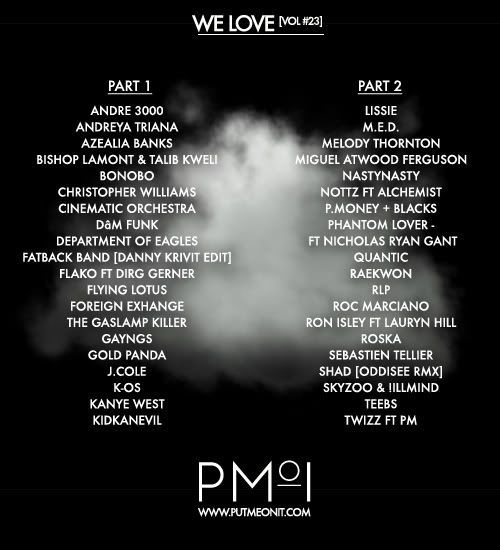 Click here to download:
PART 1
Click here to download:
PART 2
/
*alternate Part 2 link
I had to split this months edition to the We Love series in to two because it is 40 wonderful tracks long. It's quite hard to pick out favourites because I'm really feeling the whole thing, but I'm quite excited about a few artists you might not have seen much of on here before, Azealia Banks is beyond filthy but a really dope female rapper, the Gayngs tune reminds me of
Careless Whisper
, and I can't take Lissie off repeat (her guitarist sounds like Eric Clapton) - I could go on so I'll stop there.
FULL TRACKLIST:
PART 1
Andre 3000 - I Do
Andreya Triana - Town Called Obsolete (Mount Kimbie Remix)
Azealia Banks - L8R
Bishop Lamont Feat. Talib Kweli - Get 'Em Girl (Prod by J Dilla/Focus)
Bonobo - Walk In The Sky (Aaron Jerome Glitch Mix)
The Cinematic Orchestra - The way we feel 'Brother/The Revolution' (Radio Session)
DâM-FunK - NeverTongueInCheek (Edit)
Department Of Eagles - No One Does It Like You
Fatback Band - (Do The) Spanish Hustle (Danny Krivit Edit)
Flying Lotus - Camera Day
The Foreign Exchange - Maybe She'll Dream Of Me (Album Mix)
The Gaslamp Killer - When I'm In Awe (feat. Gonjasufi)
Gayngs - The Gaudy Side Of Town
Gold Panda - Same Dream China
J. Cole - Blow Up (Prod. By J. Cole)
K-OS - Zambony (rmx) [Bonus]
K-OS ft Drake - Faith
Kanye West - Monster (feat. Jay-Z, Rick Ross, Bon Iver & Nicki Minaj)
Kidkanevil - Ketto Revisited ft Bonobo
PART 2
Lissie - In Sleep (Live)
M.E.D. - Candlelight (feat. Georgia Anne Muldrow)
Melody Thornton - Love Gun
Miguel Atwood-Ferguson Ensemble - Some Day We'll All Be Free feat Bilal (Live)
NastyNasty - Bleeding
Nottz Feat. Alchemist - The 1ne
P Money & Blacks - Anyway
Phantom Lover ft. Nicholas Ryan Gant - Change (show me how)
Quantic Presenta Flowering Inferno - Dub Y Guaguanco
Raekwon - Travel Places
RLP - Cheat Cords
Roc Marciano (Prod. By Vanderslice) - Firepower
Ron Isley (feat. Lauryn Hill) - Close To You
Roska - Play Gamez
Sébastien Tellier - Kilometer (A-Trak Remix)
Shad - Yaa I Get It (Oddisee Remix)
Skyzoo & !LLMIND - Speakers On Blast
Teebs - Japan Field Report
Twizz Ft. PM - Rememberlude
*WE LOVE... is a big one click download of carefully selected individual tracks sourced from reputable blogs & artists we love. Please email us (info@putmeonit.com) if we've uploaded a non-promo track in error or to send us something you love.