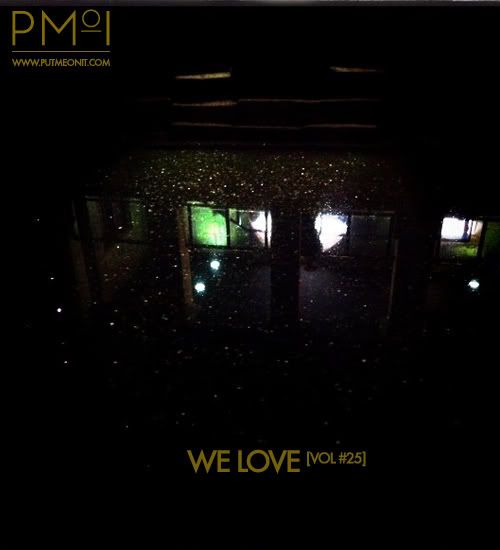 Download We Love Vol. 25.1 here [Mediafire]
Download We Love Vol. 25.2 here [Mediafire]
This is the last full
We Love
of 2010 (I'm thinking about making a
Best Of
), and it still amazes me the amount of brilliant music artists make available for free, which I'm eternally grateful for, and really hope I've managed to introduce one or two people to something they might not have otherwise heard through these compilations. They're not meant to be like DJ mixes where they flow from one track to the next, they're zip folders full of a selection of some of the best free downloads I could find online - not everyone will like every track (I do!) but if there are a couple you enjoy on each I'm happy. This month I've also added relevant links to a few free download mixtapes/ EPs etc you might enjoy...
Part 1 Tracklist
To:Love - Ahu [
Label Love Vol 2
]
Sun (Kidstreet Remix) - Caribou
Amazing Dave - cocknbullkid
Son - Danay
Go Harder - Erik L (Feat. Frank n Dank) [
Erik L "On Display" Mixtape
]
No Other Love - Estelle & John Legend [
Estelle & John Legend Duets EP
]
Frame of Mind - Evidence [
Evidence - "I Don't Need Love" EP
]
fOnkRocker - Georgia Anne Muldrow
Good One - Glenn Lewis
Cost Me A Lot - J. Cole [
J.Cole "Fridy Night Lights Mixtape"
]
All Comes Back To One - Jahdan Blakkamoore
Tomorrow - Jono McCleery
The Joy - Kanye West (feat. Pete Rock, Jay-Z, Charlie Wilson, Curtis Mayfield & Kid Cudi)
the alter - Keziah (prod.!illmind) [
Keziah EP
]
They Found Him A Gun - Maverick Sabre [
The Travelling Man Mixtape
]
Swat Dat Fly - Missy Elliott (Prod. by Timbaland)
Get Choze - Mr. Brady f. Blu & Diamond D
Happiness is a Warm Gun - Quartetto Fantastico
Snow (Remix) - Roc Marciano Feat. Sean Price
Bucket - Stik Figa prod. By Oddisee [
From The Top EP
]
Wow 2011 (Main) - Sway
BAD ONE (Dirty) - Swizz Beatz & Busta Rhymes
Tell A Vision - Wes Felton ft. Sy Smith
Part 2 Tracklist
The Dark End Of The Street - Aloe Blacc & The Grand Scheme
Break Bread (Dirty) - Asher Roth x Nottz
Think It Over (Exile Remix) - Bilal
KeepItGoing - Blu feat U-God
A Loan For The Lonely - DTMD
Come Over f. Sean Paul - Estelle & John Legend
Together Baby - Ghostface Killah
Freefire [produced by Kwes.] - Ghostpoet and DELS
Stylin' Free - Hundred Strong ft. Amp Fiddler
Shape of Things to Come - Janelle Monae
The Announcement (feat. John F. Kennnedy) - Jay Electronica
That's My Bitch - Kanye West & Jay-Z (Ft. Elly Jackson)
Get Some (Remix by Beck) - Lykke Li
Running - Mainey Wilson
Far Away - Marsha Ambrosius
Buzzcut (3:30 Edit) - Seiji
Done It Again - Space Invadas
Back It Up - Talib Kweli
Takin' The Mick - Tor Cesay [
Different Place Mixtape
]
Still Sound - Toro Y Moi
Lookin For Love - Vikter Duplaix [
For Players Only Mixtape
]
Philly Shit (Remix) - Young Chris Ft. Eve, Meek Mill & Black Thought
This Is It Ft.yU (Prod. SlimKat 78)