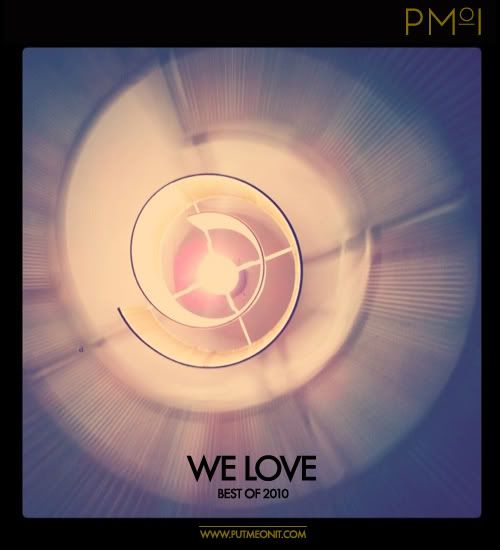 Download: We Love - Best of 2010 Pt.1 [Mediafire]
Download: We Love - Best of 2010 Pt. 2 [Mediafire]
As I've mentioned before regarding "best album" lists - I don't know how to go about comparing Andreya Triana with Roc Marciano, Africa Hitech with Lisse, Janelle Monae with Rick Ross, or Toro Y Moi with Ritchy Pitch (I could go on). I listen to their music in different moods and think they're all great in different ways.
So, instead I've pulled together a random selection of 40 free (& legal) tracks I've listened to non-stop this year, many of them from great albums, mixtapes, Soundclouds & Bandcamps, soundtracks etc etc as my own little tribute to some of the amazing music we were blessed with in 2010. You may have seen most of them on various
We Love
's, but these are some of the tunes I came across and really couldn't get enough of, in alphabetical order.
Thank you for supporting PMOI and the artists we do our best to support.
Tracklist
To:Love - Ahu
I Do - Andre 3000
Lost Where I Belong - Andreya Triana (Flying Lotus rmx, preview edit)
Free - Bilal
Beat The Devil's Tattoo - Black Rebel Motorcycle Club
Build and Destroy feat. Coultrain - Black Spade
Unbroken, Unshaven - The Budos Band
I'll Kill Her (feat. ME & LOnan the Destroyer) - Cee Lo
The Seed (Acoustic) - Cody ChesnuTT
Left & Right (Live) - D'Angelo
Cant Get Used To Those - Dimlite
Gone Baby, Don't Be Long - Erykah Badu
Surprise Hotel (Live) - Fools Gold
FANTASTIC/UNTITLED - Georgia Anne Muldrow Remix
Morning - Ghostpoet (feat. Micachu)
To Something - Ghostpoet (feat. Rox)
New York is Killing Me - Gil Scott-Heron ft. Mos Def
freek - Hudson Mohawke
Stylin' Free - Hundred Strong ft. Amp Fiddler
Spottie - Hypnotic Brass Ensemble
Get right!! Or get left!! - ISHE prod. by Hezekiah
Blackmagic - José James
Zambony (rmx) - k-os
The Joy - Kanye West (feat. Pete Rock, Jay-Z, Charlie Wilson, Curtis Mayfield & Kid Cudi)
Floozy - The Knux
In Sleep (Live) - Lissie
Take Care - Marsha Ambrosius
All I Want Is You - Miguel (feat. J. Cole)
Lose My Fuse - Muhsinah
Yèkèrmo Sèw - Mulatu Astatke
The Blooming - Oddisee
Labor - Olivier Daysoul
Tears Of Joy (Feat. Cee-Lo) - Rick Ross
Antiquity - The Roots & Miguel Atwood-Ferguson
Gills or Wings - Sonnymoon
Plane Trails - Tanya Auclair
Talamak (Live) - Toro Y Moi
The Supplier - Tranqill
Stop What You're Doing - Untold (James Blake Remix)
Fight For Me - Wildbirds & Peacedrums