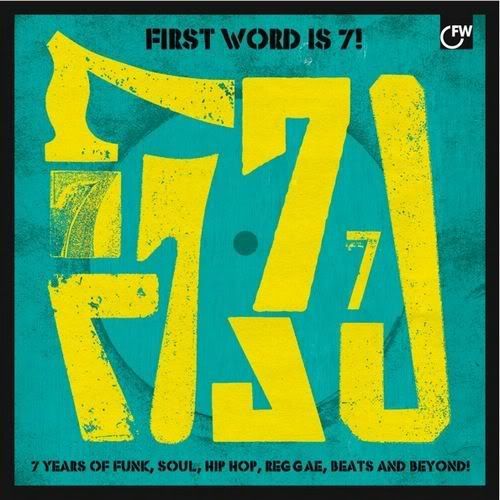 One of the UKs finest independent record labels
First Word
(home to Kidkanevil, Homecut, Laura J Martin, Ariya Astrobeat Arkestra and lots of others) turned seven years old this week so I asked label boss
Aly Gillani
AKA DJ Gilla about the journey. If you're quick you can grab this great free compilation they've released to celebrate, it's up for another day.
I've read the bio but still don't know where the name "First Word" came from, is it a dark secret? If so please will you tell us anyway?
Well, originally we were called 'Sounds Like' - as in charades - 'sounds like music' - we started getting logos with an ear being tugged as you would if you were playing the game. Then we found out there already was a 'Sounds Like' so we continued the charades theme and came up with 'First Word' - it seemed only natural that our first compilation should be called Two Syllables. I have no idea where this charades fixation came from - I don't even like the game that much....
We're sure there have only been highs, but please will you humour us and tell us about the biggest highs and lows over the last 7 years?
It's funny, but when you start out everything is a high. I remember rushing down to the newsagent to buy magazines and newspapers which had our reviews in, recording Radio One off the 'listen again' feature into my minidisc recorder when we had our first airplay, our first big shows at Jazz Cafe, Koko etc, were all hugely exciting. Particularly as the label has always had a real family vibe to it, you really feel part of something. As you get more experienced you get a bit more blase about it, because it becomes normal. The event at Vibe Bar this week was great, because it was the biggest line-up of artists on the label we've had since we started - I'm really lucky to work with a genuinely great group of people, and to have them all meet each other, socialise together and collaborate on fantastic music is really gratifying.
Plenty of lows too though! Going way back, our second single was by a band called Today's Mathematics - a really beautiful hip hop soul record. To this day it's still one of the best reviewed releases we've had - Radio 1 airplay, loads of press, great DJ reactions - we had high hopes..... it sold 30 copies on vinyl - heartbreaking! We've also been ripped off a couple of times, it's the nature of the business that distributors go under, and that's just how it goes. However, one guy literally pocketed a very significant amount of our money, for entirely selfish reasons - he just never paid us (and lots of other people too). It was pretty early on for us and it nearly sent us under. What's even more frustrating is that the guy is still working in the industry today! The only other real low point is when we have to destroy unsold stock - in the last year I've taken two full carloads to the skip and it's pretty soul-destroying - all those hopes and dreams you have end up in the crusher. It's generally all old releases, we definitely have more hits than misses these days, but it's still hard to take.
Is there anything you've found yourself wishing you knew about before you started running an independent record label? Like people don't buy that much music anymore...
There's so much I wish I knew, and so much I still don't know. I think when we started it was at a really interesting time in the independent scene. We were taking our cues from people like Ninja Tune, BBE, Tru Thoughts - labels that had started when people still bought a lot of records - they'd locked down how to run things in that climate and we tried to replicate that. That taught us our biggest lesson - everything changes so quickly - the nature of the business changes constantly. When we started in 2004 iTunes was in it's infancy, and not really a big consideration. If you didn't release something on vinyl DJs couldn't play it - which now is almost unimaginable. Technology has completely transformed the way we work, and the lessons from today don't necessarily help you tomorrow.
Has it made much of a difference moving your base from Leeds to London (apart from the lack of friendly conversations with strangers on public transport)?
Ha ha! Yeah, the number 78 bus from Peckham isn't a place to start a conversation really! I'm glad that we started the label in Leeds - it gave us our identity and the support from people there and in Sheffield was massively important to us. I still feel that we are rooted in that Leeds musical scene which has produced such amazing talent. As well as The Haggis Horns, kidkanevil, Homecut, Mike-L and Ariya Astrobeat Arkestra on our label, there's Corinne Bailey Rae, Andreya Triana, Shlomo, Eliphino, Kato, Laura J Martin, Submotion Orchestra, Ramadanman and tons more - it's a really inspiring place.
The move has been great from a business point of view even though my reasons for moving were personal ones. There is a much greater scope for things here - Leeds is a relatively small city - which makes it all the more remarkable that it produces so much great music, but London opens up so many more possibilities. We're still proud of our Yorkshire roots though!
What's next? Any plans to sign a group of potty mouthed middle-class teenagers from the West Country and take over the world?
What, the cast of Skins or something? Actually, a record made by them would probably outsell everything we've ever done! We've got loads of great stuff coming up though - we're about to release a couple of reggae records in the shape of a new album from Lotek and East Park Reggae Collective (another product of the Leeds music scene). There's also the debut Souleance LP which is gonna feature Shawn Lee and Raashan Ahmad (that track is sounding crazy!) and we've recently signed RBMA graduate Amenta who I'm really excited about working with. There's an ethio-jazz album from Brighton duo Ye Mighty and we've just signed (today in fact) a 7" from Tall Black Guy out of Detroit. Plenty to keep us busy!