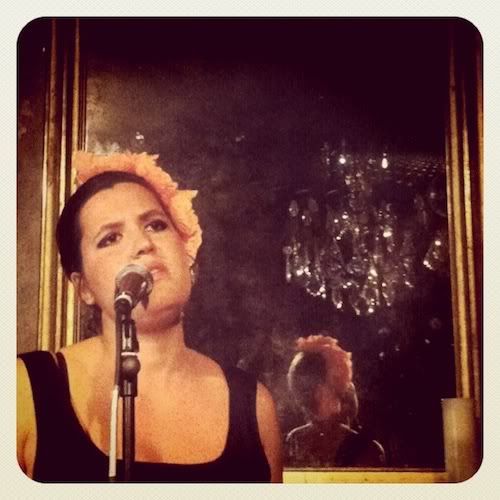 I really thought I was a fan of
Quadron
. I thought they were a really good band with a quirky approach to songwriting and a lead singer (Coco) who had a lovely tone. I had no idea. Turns out Quadron are one of the most talented bands I've been blessed enough to stumble across in the last 10 years.
After an advance call to the venue we arrived at 9pm ready to see the band - who didn't go on stage until almost two hours (and two support acts who might have been dragged kicking and screaming from the nearest secondary school) later. It's always great to watch an act who have no need of nervy introductions, and Coco hopped on stage to join the boys, grabbed the mic and proceeded to deliver one of the most impressive live sets I've seen this year. You could sense from the start that the crowds expectations were being thoroughly trounced by a band whose music made so much more sense and became so exciting live, especially the rousing chorus of
Jeans
.
The thing about Coco is she is a huge star in waiting, with a very attractive mixture of firm confidence and genuine humility. Nothing on the record really suggests her vocal ability is as impressive as it is -
her beautiful cover of Michael Jackson's Baby Be Mine
is infinitely more beautiful live, and she began
Pressure
with an acappella similar to the
incredible moment right at the end of this version
with Rebekah Raff. Dru from Plug Research warned me that she would give me goosebumps but I found myself trying to physically keep my brain and heart inside my body. The band seemed surprised that the audience refused to stop applauding for minutes after every song, but I can't imagine anything else - we were being converted from fans to devotees. For our part we all refused to leave until they came back for an encore, providing the venue manager with the choice of potentially losing his job or dealing with a riot. Quadron obliged us with a quiet version of
Herfra Hvor Vi Står
, but I think a lot of us were secretly hoping when they said they would sing in Danish for this from the recent
Boom Clap Bachelors EP
[iTunes link]...
Boom Clap Bachelors - Løb Stop Stå
from
Plug Research
on
Vimeo
.
*Update 18th May*
Boom Clap Bachelors have just released an adorable new video so I thought I'd update here.....
Boom Clap Bachelors - Falder Ind Og Falder Ud
from
Plug Research
on
Vimeo
.