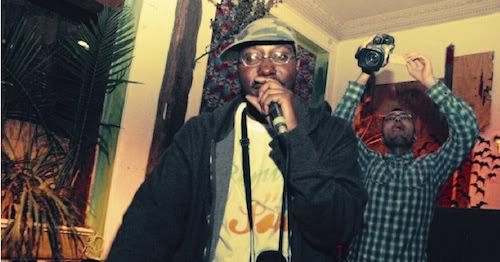 Kev Brown at Lookout! Circa Nov 2007
I was surfing Myspace one night (it was October 2007), and one of my favorite rapper/ producers
Kev Brown
sent out an update saying that he was in London. It turned out his show had been cancelled and he and half the Low Budget crew were sleeping on
Tranqill
's floor. Virtually hyperventilating I called some friends with a live night called
Lookout!
and demanded they change the line up at the last minute. Two days later and Low Budget were rapping and making beats live on stage at Favela Chic.
The guys asked me to stay on and help programme, and through Myspace we managed to book Muhsinah, Ty, Blu and Ta'Raach, Stacey Epps, Eric Lau and Rahel, Fatima and lots of other artists with Alexander Nut and Cavalry as our resident DJs. There was a lot of sleeping on sofas, last minute line ups and minor emergencies, and we ended up giving the artists every penny we made on the door, but it was more than worth it. We were one of many similar live promoters at the time - Deviation which I also ended up working on, Doctors Orders at Herbal, Cargo and the Jazz Cafe were all putting on great live line ups of independent and emerging talent.
Fast forward to 2011, and things look pretty different. London has become one of the major cities in Europe international artists find it hardest to book a show in. Georgia Anne Muldrow, Taylor McFerrin, Blu and Exile, Cody Chesnutt, Mia Doi Todd, and many other great performers have all been on tour in Europe in the past year with no London date (not to mention the live talent based here). Generally venues and promoters are booking safe-bet big name artists slightly past their prime for lower fees, crowd pulling electronic producer-DJs who can just show up with a laptop (no backline, band members or tour manager required), or in the case of Cargo music so bad people have to get drunk to numb the pain.
I wasn't going to do another live night. It's hard and scary - you lie awake worrying about the sound system, ticket sales, flight prices and last minute cancellations. I convinced myself everyone must be happy enough with DJ sets and old school rappers. Then I saw
Quadron perform at the Queens Head
in May. The band were truly incredible - I will never forget that show as long as I live, but because it was a bit random and last minute there was only a tiny fraction of the familiar faces I knew would have felt the same way in the audience. I refuse to believe that the hundreds of Londoners downloading, blogging, tweeting and ranting on about amazing new music don't want to see it live. So I resolved to call my dear friend
Eric Lau
and ask for his help, and later this afternoon I'm going to go and hand in a deposit I can't afford to the venue for
our first event
.
It would be so easy to sit here and just blog, but this blog started in the first place because of the live events I was involved in, because I wanted to do something active to support the musicians whose work I love so much. I didn't know anything about anything, I was just passionate; so if you can offer an artist you love and want to see perform in London a spare room, a cheap flight hook up, a rehearsal space, or you just
buy your tickets in advance
, we would really appreciate your help.