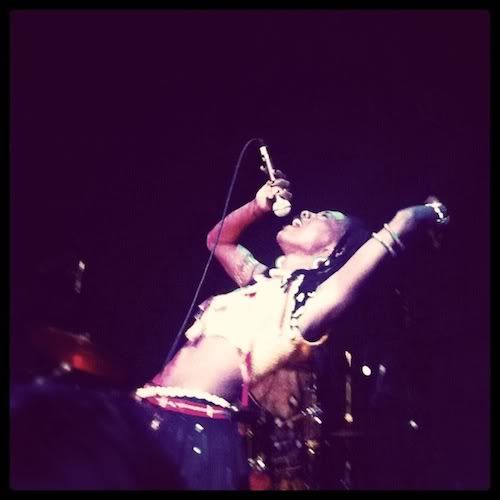 I say "review" but technically "gushing outpouring of unbridled adoration" is probably far more accurate so I'll try to keep it brief.
I'd heard very little about
Fatoumata Diawara
which is strange considering what an incredible specimen of the human race she is. An electric guitar playing, mind altering beauty, 'human firework' dancing, limbs like a moving sculpture specimen to be more precise. Her style of singing was something I hadn't come across before, a beautiful tone and range but so expressive - one minute full of dry laughter and the next heavy with sincerity. At one point Fatoumata proffered an inviting description of how to get to her village and proceeded to take us there with her casually masterful band, which just intensified my longing to visit Mali - if ever there were a successful advert...
I admit, I whispered "I would NOT want to have to follow that!" before
Baloji
and his Orchestre De Katuba took to the stage. How wrong I was. I think the brilliance of some of Baloji's videos (
Karibu Ya Bintou
,
Tout Ceci Ne Vous Rendra Pas Le Congo
) left me imagining he couldn't possibly be as exciting in person. As Orchestre De Katuba filed on stage looking every bit as slick as the
Indépendance cha-cha
video my hopes were raised, and when Baloji appeared in a shiny red tuxedo jacket with an aura of confidence so evident it was neon, I realised the videos were just the appetizer as they launched in to a set fueled by African funk that could have launched a jet.
Perhaps what struck me most (and there was a lot of striking, the band were incredible), was Baloji's mastery on stage. Every movement and moment seemed calculated and choreographed without losing any of the excitement - the attitude on stage was one of gleeful anticipation, *we know what's coming next and trust us you're going to like it*. The mood switched from playful to serious to steamy to jubilant but the barriers really came down when Baloji announced "they call this 'world music', but this is our music". From that moment on we all danced like the palm wine was flowing at an African wedding.
I'm not sure Baloji falls in to the traditional heartthrob category but the women to my right started squirming and screaming "tomber la chemise" as the jacket came off and the sleeves were rolled up with unmistakably suggestive intent. There's definitely something iconic about the man - I had that same feeling of intense absorption and awe you get when you watch one of the greats, as your soul pledges to return at every chance just to experience it all again.