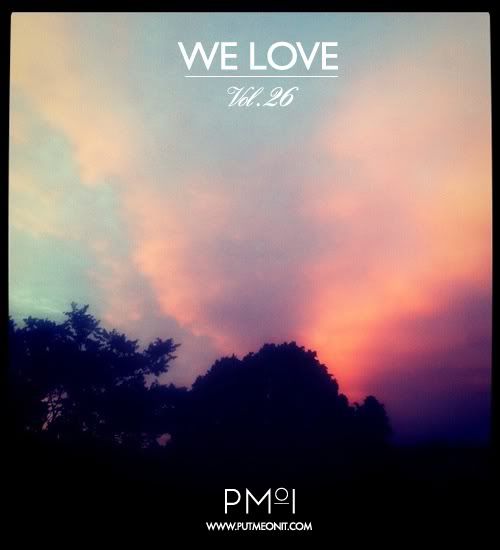 It's been a while - I was thinking of stopping these (they take
days
) but realised I would miss them too much let alone the lovely people who threaten me when I leave it too long. So this is the first "We Love" compilation of 2011, Vol 27 will arrive tomorrow and Vol 28 on Friday. That's 60 tracks of the usual mixture which stretches from the insanely beautiful to inexplicably ignorant (sorry). Grab the first 20 individual tracks all wrapped up in a pretty zip folder below...
We Love Vol.26 Download [Mediafire]
Aloe Blacc - 99 Problems (Jay-Z Cover)
Alpha Yaya Diallo - Sogue (Live @ KEXP)
Asher Roth & Nottz - Run It Back
Baris Manco - Kucuk Bir Gece Muzigi (Mozart)
Blu Ft. Pac Div, U-N-I, J*Davey, TiRon & Ayomari - Doin' Something
Cam'ron & Vado - Hey Muma (Cookin Soul Remix)
Drake - Dreams Money Can Buy
Georgia & Dudley - Popstopper
J*DaVeY - Quicksand
Jhene Aiko - Club Stranger (Nguzunguzu Remix)
José James - COLTRANE (DEAR ALICE)
Karl Hector - Clavi Groove
Mansions on The Moon - Walk on the Moon
Muhsinah - How Great
The Park - Belleville
Sir Michael Rocks - Bring It Back
Sleepy Brown- You're My Lady
Szjerdene - Think it Through
Thundercat - For Love I Come
Wildbirds & Peacedrums - Doubt/Hope (Live at WFMU)
*WE LOVE... is a big one click download of carefully selected individual tracks sourced from reputable blogs & artists we love. Please email us (info@putmeonit.com) if we've uploaded a non-promo track in error or to send us something you love.